so my life for the past 2 1/2 weeks has been a rush of trying to pack and move, its hard for 2 ppl to pack 5 ppls worth of stuff, but we are getting close to finishing... hopefully...
so today i went on my soundcloud and realized im my own best fan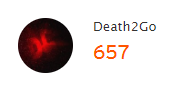 which, though it sounds sad, makes me realize what i do music for.
at first i did it to give me some personality or something other than a gamer, but after a while i started getting  more and more invested in it, and when life was beating me down and such, music was there to calm, not only listening to it, but also making it. nothing can compare to when i get something to sound exactly how i wanted it to (course thats only happened a few times but it feels great) and seeing how much ive grown since i started makes me feel even better. if people also liked my music that was another awesome bonus, but i dont use it as something to base my progress on entirely. sure it points out what people like, but if you dont like that specific thing dont force yourself to do that, do what you want, then eventually people will come for your style, not for theirs.
i know im not really popular, or really good or anything, but it doesnt really matter does it? for me music is an escape from the responsibilities i have, its not exactly a good habit but there are far worse ones to have. so if you ever feeling like no one likes your music or anything look back at your first tracks, see the progress. and push forward and ignore  the numbers, and be yourself, dont do something you dont want to, but dont be afraid to step out of your boundary occasionally, you never know if you like to make something till you try it!
honestly idk why i had the strange urge to write this, but i felt like i should, so if anyone read this. thank you, and i hope whatever you want to do in this world, that you succeed and strive!